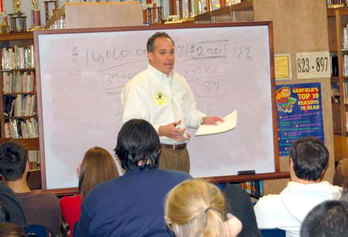 Jim Clemente speaking to graduating seniors at Chattahoochee High School.
Dear Teachers and School Staff,

We have put together a portfolio of the best loan programs that are offered to teachers from lenders all over the United States and we formed Teachers Financial as a vehicle to market these products.

We are often asked why an individual can't just go to a local bank and get the same loan or why have they not heard about these programs? Typically lenders will not spend advertising to market one product to one group.

Why Only Teachers?
Actually there are programs that are for Policeman, Fireman, Healthcare workers and active military. Unlike community based loans that look to compensate for challenges, these loans look for the positive attributes of a chosen career to offset risk.
All of the programs are conforming government backed programs.

Why Are Teacher Loans Different?
Certain banks recognize that teaching is a professional occupation and that teachers as a group typically have a higher than average education. Their job is one that is stable and in demand, and teaching is one of the few areas where the employees are career oriented. Teaching is a college major where a good portion of graduates will actually go into the field of their study. Also there is direct correlation between the amount of education a teacher has and their income. Masters and doctorates are becoming more and more common in the ranks of educators at all levels. So instead of seeking another line of work to increase income, teachers can increase their education and further their career.

In the eyes of the investor these attributes lower the risk of default. This lower risk is reflected in enhanced guidelines that put more emphasis in one area to make up for possible challenges in other areas. In other words because of the stability of the teaching profession, areas like credit, time in home, income, amount borrowed in relation to the value of the home among others, are not as critical as they would be with a person with in a similar situation but a different line of work.




---
Sunview Mortgage Inc. Georgia Residential Mortgage Licensee #34216, NMLS#854218. 1745 Porterton Way, Cumming, GA 30041 Office: 678-807-6427 Fax: 866-226-6208 Jim Clemente: 404-229-6575 NMLS#232617